Bora Bora PHOTOGRAPHERS
For your honeymoon, destination wedding and boudoir intimate photo session.
Only the name invites you to dream... Bora Bora, world-renowned, has the reputation of being the jewel of the South Seas.
Not everybody can point it on a map for sure, but everybody knows the name: Bora Bora...
Honeymooner has this on their bucket list for years and comes from all around the world to stay on overwater bungalow luxury resort of Bora Bora.
Its immense lagoon indeed takes the breath away of all its visitors. Crystal and turquoise water with unbelievable shades of blue are a spectacular show for your vision: already from the sky when you arrive by plane and then from your boat to go to your Resort.
That kind of crystal water and luxury can be found on other destinations for sure but not this view over the mountain.
The mountain Otemanu is fascinating and you will see how hard it is to don't look at it. Colors change all around the day and all around the year offer dramatic scenery on the rainy seasons with radiant turquoise lagoon just under the black heavy clouds. Then during sunset, pink, orange and sometimes red color in the sky... You will not get bored of your view from your terrace.
The bride and groom who choose to have a destination wedding there can be sure we will be glad to offer them unique wedding photography.
Our Photographer come to you for you honeymoon sessions which are a wonderful excuse to dress again your wedding attire or just have a souvenir of this once in a lifetime trip with casual clothes.
This glamour destination is THE place to have the boudoir shoot you've always want and for all these reasons our Photographer will guide you for poses to feel amazing.
We know well each Resorts and their best point of view, feel free to share with us where you are staying.
We are very pleased to be published on magazines for our photo and to be chosen by celebrities for their honeymoon.
Contact us to tell us more about your stay in Bora Bora
A small selection of our shoots in Bora Bora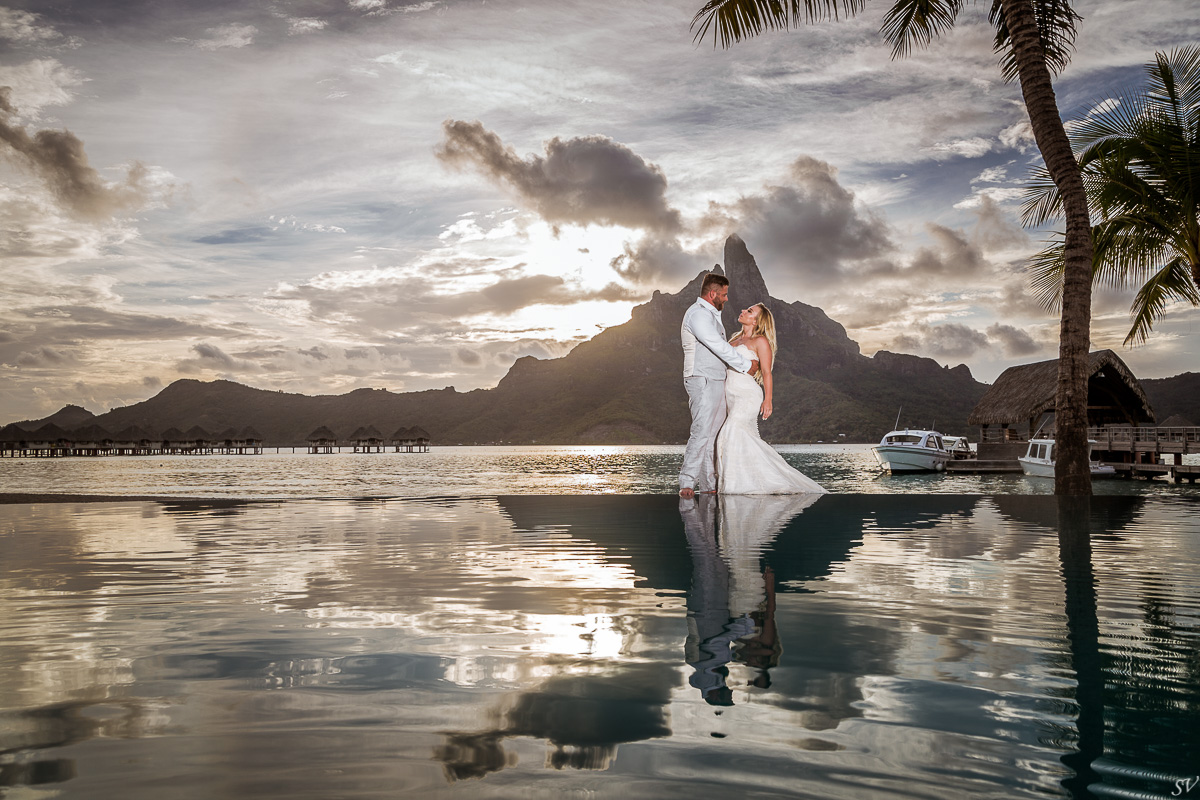 TAYLOR AND JASON - FROM THE ORANGE TO THE BLUE
What a pleasure to finally met Taylor and Jason ! After a year talking to each others by email, after 3 planes, 2 boats and few fresh coconut to refresh, we finally arrived to their beautiful luxurious Resort in Bora Bora.
Taylor and Jason came a long way too as they leave the desert of Arizona to get married only together, surrounded by blue that time.
Marissa and ravi - four seasons bora bora
So great day spending with theses lovers who were spending their honeymoon at the Four Seasons right after a beautiful wedding in California.
We had the chance to see them again in Victoria few months after ! Was so nice to keep in touch with you like that. What will be our next adventure ?
Katy Hearn and her husband - Four Seasons Bora
With the beautiful athletes couple Katy Hearn and Haydn Schneider. This gorgeous couple, fitness lovers, offer us beautiful images between their luxurious overwater bungalow and magnificent spots of the Four Seasons. Perfect place to trash the dress !
Gorgeous and so pleasant couple - four seasons bora
This couple of two real lovers welcomed us like friends. We had a lot of fun during this shoot. After the intimate elopement on the Chapel, our bride felt in love with the reef side and we spend time there creating frames with stunning colors. Sun came quickly just to give us nice bikini shoots and play into the radiant blue of the lagoon.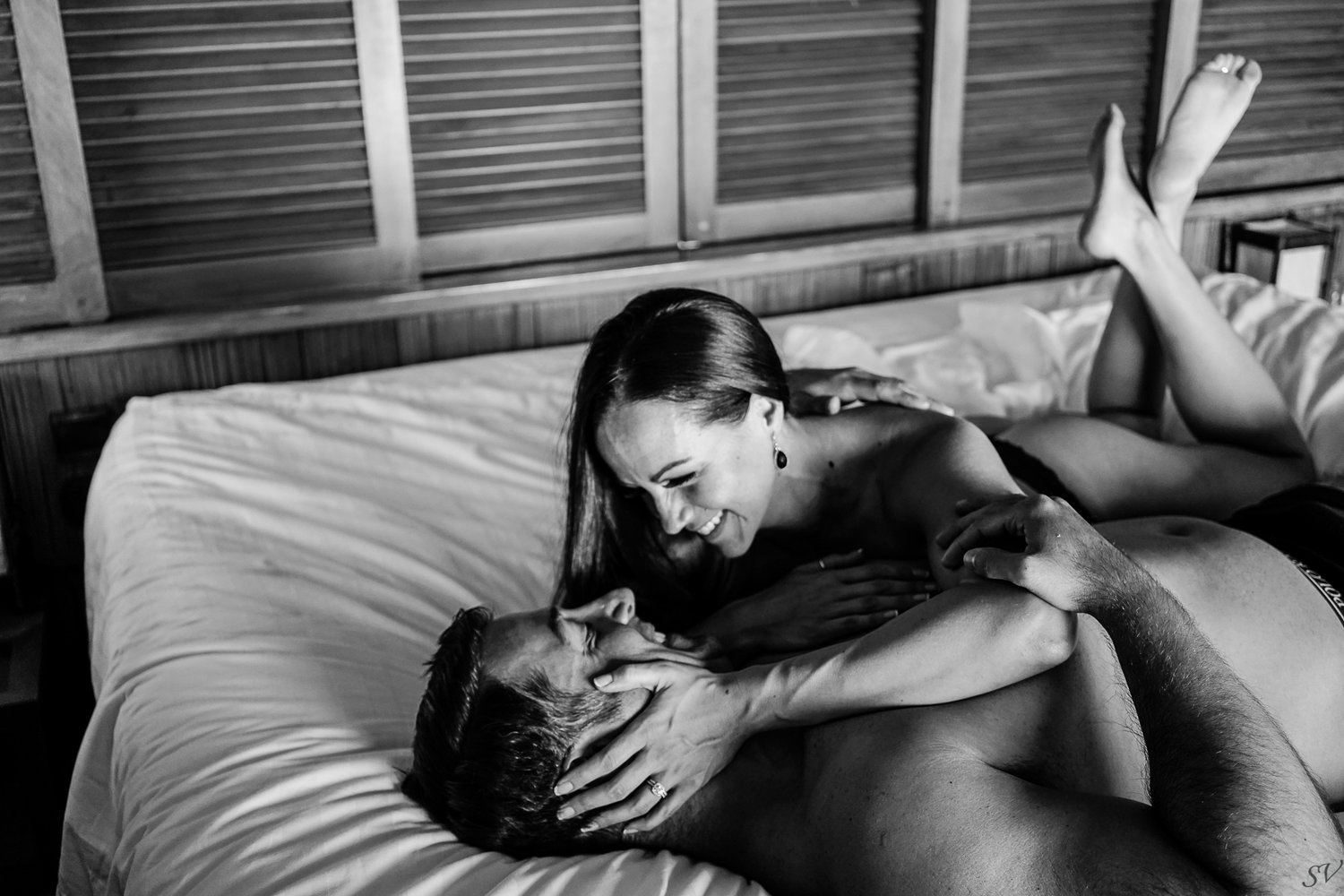 Meg and jeff - sexy and funny (that's double sexy)
We have sooo much fun with theses guys ! This couple has a so beautiful complicity and love for each other, we can only see smiles and joy on photos. And I'm pretty sure it's like that all the time with them. The most annoying in all this is they are not only that not only happy but, in addition of that, they are gorgeous... Life is so unfair