engagement photography in victoria, vancouver island and vancouver
Also photographing vacations session, in Canada and Destination.
Photograph engaged couples are always a lot of fun and adventure. This is the unique moment to have amazing photos of you together in a privileged place. We propose you more than just a photo shoot. We will explore with you preserved places we choose just for your session depending on how you are. We want to create a captivating image you can be pride to hang on your wall and to show to your family. Imagine also having a photo like that for your "save the date" invitation. That's a blast!
You will see here couples who choose to have this special shoot on Mystic Beach, Botanical Beach (Port Renfrew), East Sooke Park, Victoria, Gulf Islands, Comox, Mount Washington and also Chilliwack and Greater Vancouver. We are also destination Photographers so we can flight wherever you want: you will recognize desert, tropical island, wild swamp, and other natural jewels.
we photograph you together, holding your hands surrounded by mountains, laughing like never before or kissing in front of a campfire on the beach.
Being just together: no need fancy dress and suits. Here we focus on how you feel the best (well, sometimes people feel themself with a tuxedo but it's pretty rare) The most important here is being with your better half and having fun on a special place.
Be adventurous: during these shoots, our couples are not afraid to hike a bit, have a little bit of sand or mud on their feet or finish completely wet on a river or into the ocean. Be ready to be dirty guys!
Unique : we drive you on wild places. If you don't have any idea, you can trust us, we know plenty of cool areas. Actually we spent a lot of time finiding new places to be sure to offer you something special. Discover others couples just engaged or in vacations how decide to share with us 2 hours or an half day to have memories for life, on our Blog.
Locations : we are based on the incredible and diverse Vancouver Island. And we love the road, so wherever you prefer to be, from the North to the South, we will be there for you. West Coast trail, Juan de Fuca, Cape Scott, Mystic Beach, Gulf Islands, so many famous names where we love to go. We also spend lot of time on Mainland in Greater Vancouver and on British Columbia. Mountains there are just fascinating.
In Vancouver Island, Vancouver and british columbia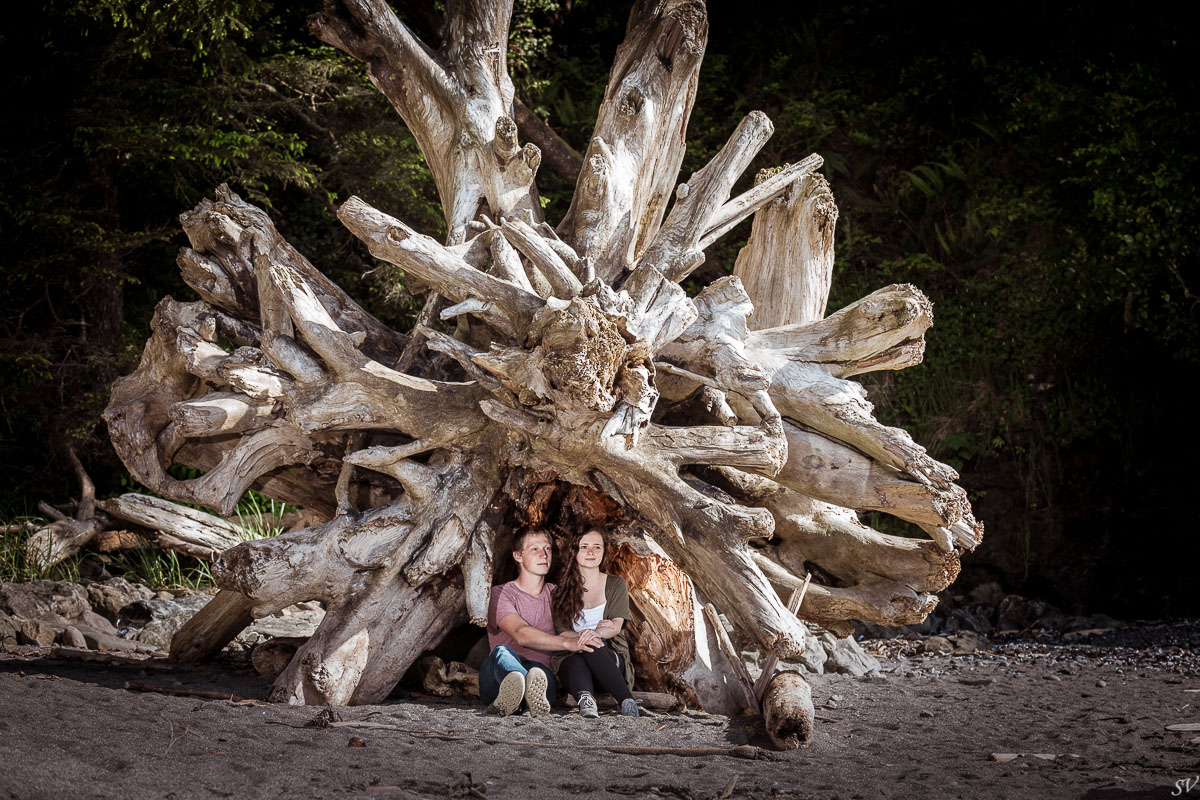 In British Columbia and others provinces of Canada
or Destination engagement : around the world, we fly to you.
As we are Destination Photographers, we come to you also overseas. After spending 4 years in Bora Bora, Moorea and 2 years in New Zealand, and of course years in France, we have experience of all landscapes, weathers and areas. Our engagement and vacations couples shoot drove us from the desert of Arizona to the wild swamp and tropical forest of South America. So tell us more about what you want.
We not something more sexy and intimate? We propose boudoir session as couple.
Have a look there and let's plan that photo shoot together.
Tell us more about you now.